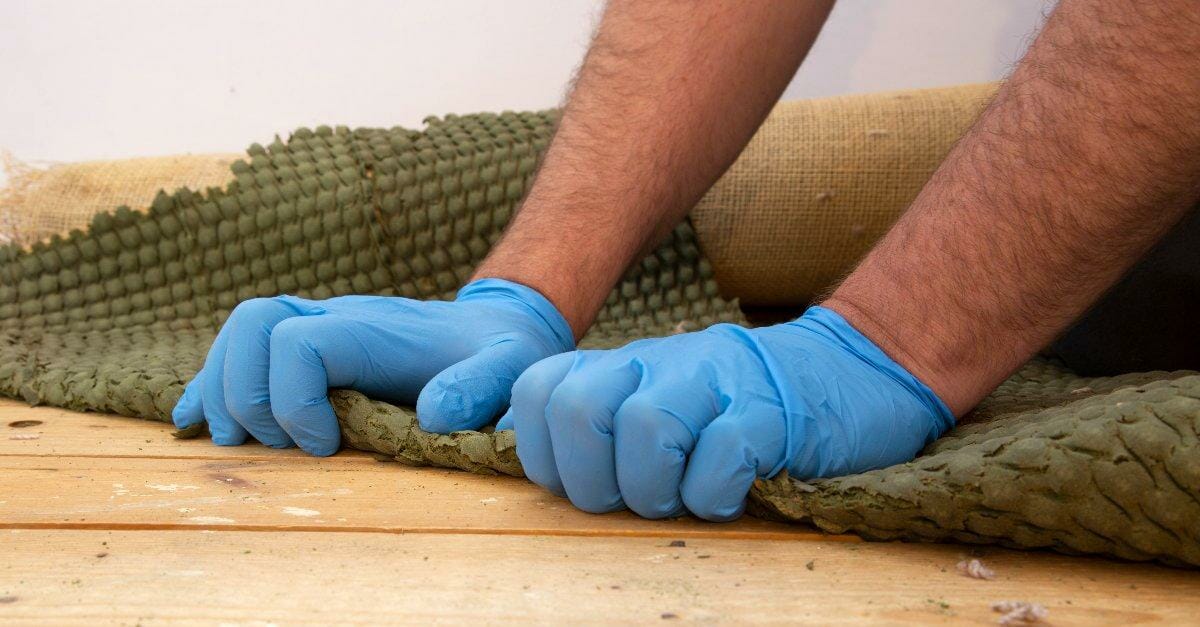 Before you ask what an underlayment is, it's important to learn about all the small details of carpet installation because it's so easy to be ill-prepared during a flooring project like this. There is a reason for the added softness on your plush carpet that allows you to move freely and comfortably. It's all thanks to well-installed carpet underlayment.
Minneapolis MN homeowners who have a hard time picking the right flooring for their home won't have to worry about the type of carpet padding they need once they have made their choice. Manufacturers will tell you about the underlayment type required, or our team of Minneapolis flooring experts at 651 Carpets will also be at your disposal.
It's easy to believe that Minneapolis carpet underlayment functions solely for your comfort, but an enhanced carpet cushion is not the only reason. It rather serves as an impact absorbent. The art lies in choosing the right thickness and weight that supports both foot traffic and your flooring system for many years to come.
What Is Carpet Underlayment?
Minneapolis MN homes that are getting new carpets installed have to shop for relevant carpet padding that supports the new floor system.
Carpet underlayment, padding, underpad, underlay, or cushion is typically a foam sheet installed underneath the existing carpet. Its primary purpose is to support, insulate, and provide comfort.
Types of Carpet Underlayment:
Minneapolis MN homes with carpet flooring might have one of these common paddings:
Polyurethane foam: This is a widely used form of padding that you will even find in upholstered furniture and mattresses. You will find this type of foam in various densities and thicknesses.
Rebond: This is another popular choice for Minneapolis carpet underlayment services. Bonded urethane is made of reclaimed bits of urethane foam and also comes in various densities. The main difference is that a rebond carpet cushion has a chemical additive that triggers discoloration, such as yellowing on your carpet.
Rubber: While this is one of the most preferred carpet underlayments, Minneapolis MN residents have shared their concerns about sourcing it. Flat rubber padding is not easy to find and is also very expensive due to its high performance, quality, and ability to outlive the carpet itself. Although rubber is ideal for seasonal allergy sufferers, it is not suitable for people who have a latex allergy.
Memory foam: When looking for pet-proof carpet underlayment, we recommend sourcing a high-quality memory foam carpet pad that minimizes surface pressure and blocks spills and stains as an added protection to your subfloor.
Fiber: Fiber carpet cushion is primarily made of scrap fiber, foam, and nylon. Although this type of carpet pad aids environmental protection, it may lack in quality.
Why Is Minneapolis Carpet Underlayment Important?
Whether you plan to have new cut-pile or loop pile carpets, there is no way around a new carpet underlayment (unless you have an existing, well-maintained flat rubber padding that can handle another carpet top). When you think about your attic insulation or wall insulation systems, you'll understand that your carpet underlayment serves a similar purpose if not more.
Residential carpets have to withstand the daily impact of human feet stepping on them, not to mention bear the weight of heavy furniture and other objects. Without the necessary support of carpet underlayment, Minneapolis MN residents will be replacing their plush or frieze within a year with potential subfloor damage that requires costly repairs. Your insulation will drastically deteriorate and cause a spike in your heating and cooling bills. Minneapolis carpet underlayment serves as an important moisture barrier and contributor to noise reduction.
How Do I Know Which Carpet Underlayment is The Right One?
Our Minneapolis carpet professionals at 651 Carpets highly recommend either foam or rubber padding. As for padding thickness and weight, 7/16 inch to 1/4 inch and 6 to 8 lbs. is the best for any cut-pile carpet like plush or frieze. Both provide Minneapolis homeowners with a comfortable and functional environment, so the denser the underlayment, the longer it will remain efficient. However, you can't say the same about the thickness, which should be just enough to provide comfort. When too thick, it can damage some types of carpet padding by reducing its stability. Areas could become loose and wrinkled, calling for frequent carpet stretching services.
Berber is the only type of carpet that requires a thinner carpet underlayment to correspond with its functionality and features. 3/8 inch is usually best at 8 lbs. Either foam, rubber, or fiber will work.
If you are experiencing any issues with your current carpet underlayment, trust our professional team in Minneapolis to inspect your overall flooring system and detect any problems fast.
Minneapolis Carpet Underlayment 101
Preparation:
Our flooring specialists in Minneapolis will expertly remove the old carpeting and inspect your subfloor during preparations. (If any subfloor repairs are needed, we will raise the issue to you in advance.) Part of the prep is to remove baseboards and doors that are in the way.
At this stage, it's important to ensure you have a clean, healthy area to work with. We'll sweep, clean, and vacuum wherever it's needed.
Next, it's taking accurate measurements of the entire room or area, both length and width. Typically, carpets are measured in square yards and have to be converted into square feet to avoid any confusion.
Carpet Underlayment Installation Process:
Carpet underlayment installation begins with a clean room that has adhesives, staples, industrial tapes, and wooden tack strips in place for the work to begin. More detailed steps include the following:
Secure tack strips around the perimeter of the room (about 1/2 inch from the wall).
Cut carpet underlayment into sections that are long enough to reach the edge of the tack strips.
It's important to ensure which side of your carpet underlayment goes up. Check out both sides and one will always look shinier and feel smoother. This smooth surface helps your future carpet to freely slide across the underlayment during installation.
Lay out underlayment sections on the subfloor and organize them in a way so they don't overlap at the seams. If needed, we'll use a trimmer or utility knife to cut the underlayment to fit the whole length of the room.
We use underlayment tape to piece those sections together.
Secure the underlayment with staples around the perimeter and around the seams with at least six to eight inches apart.
Trim any excess until the edge of the tack strips.
Pro Tip:
As a rule of thumb, Minneapolis carpet underlayment is always cut slightly smaller than the actual carpet because only the carpet connects with the tack strips.
Choose a high-quality underlayment for longevity. It will help save you money in the long run. Check with your local Minneapolis flooring experts for more information.
For an enhanced moisture barrier that supports both your carpet and subfloor, opt for premium underlayment tape (vinyl coated) to seal the seams.
Installing Minneapolis carpet underlayment on concrete? Make sure you use non-flammable adhesive underlayment adhesive around the room's perimeter.
Minneapolis Carpet Underlayment – FAQs
Didn't think there would be so much to cover about carpet underlayments? Minneapolis MN property owners have asked us additional questions. If you don't see yours listed, feel free to give us a call and learn more about our services.
What Thickness of Underlay Do I Need?
The standard thickness is 7/16 inch to 1/4 inch for most types unless you're installing Berber, you require only 3/8 inch. Most of the time, carpet manufacturers indicate the corresponding underlay required. When you purchase your new flooring from 651 Carpet, we will ensure you know every detail.
Are 8 lbs. Underlayment Good?
Anything from 6 to 8 lbs. is considered good for cut-pile types like plush and frieze, given that you opt for rubber or foam. Besides providing you with a comfortable, cushion-like feel, it's so durable, that it will be able to handle heavy foot traffic for many years!
How Much Does an Underpad Cost?
It will highly depend on the preferred underpad. We have briefly mentioned that rubber is more expensive and harder to source than its foam counterparts. But in order to give you a more detailed estimate or cost breakdown, we highly recommend our FREE in-house consultation, during which we will take a look at your preferred material, required square footage and labor.
Don't worry, we are very transparent about our estimates and will never startle our customers with any hidden fees. We also pride ourselves on being Minneapolis-St. Paul's most affordable carpet and flooring supplier. If you have been collecting estimates, feel free to share them with us, and we'll do our best to price-match and beat the price!
Can You Put New Carpet Over An Old Underpad?
No, unless you have a high-quality rubber-based underpad that didn't take any beating and stayed in shape. But we still recommend having a flooring specialist inspect it in greater detail self-determining it looks fine. Sometimes, it's also safer to check the subfloor underneath as well.
Besides the rubber underpad, any old one should be replaced, whether foam or fiber-based.
Is It Worth Upgrading The Padding?
It does degrade as it ages and suffers from wear over time. If you don't take good care of your frieze or plush with regular vacuuming and let dirt and soil filtration attack your flooring, it will eventually go underneath and cause your underpad to deteriorate. If you notice any inconsistencies that may need repair, give our flooring specialists a call. An underpad upgrade is certainly a good idea but usually, it's done with a brand-new flooring installation service at the same time…because you might as well?
Does Underpad Improve Acoustics?
Certainly. Whether you enjoy music or good sounds when watching TV, having sound-absorbing or soundproof materials at your property is crucial, especially when there are multi-levels. If someone in the family is flat-footed and stomps like an elephant, you'd certainly prefer the sound to be dampened as much as possible.
Wall insulation is designed for climate efficiency. Plus, your wall system backs your HVAC system and its density is built to reduce the transfer of sounds. The same applies to flooring systems and their underlayments.
How About Memory Foam Underpad?
These pads are essentially frothed polyurethane and feel extra soft and comfortable while adjusting to the weight you put on it. While memory foam is common for pillows, mattresses, and shoes, it's still a new thing for floors and technicians are still working on enhancements.
However, memory foam performs at its best during the first few years after installation but can squish over time. Also, it's temperature-reactive and can soften in the heat. Memory foam is not recommended for high-traffic areas where it's heated.
Need Minneapolis Carpet Underlayment Services?
Before asking anyone else about carpet underlayment, Minneapolis MN homeowners will have all the information they need to fully understand the entire installation process. We can also help with keeping your carpet clean and odor free. There's a reason customers love our berber carpets, loop carpets and other carpet types. Check out our carpet stretching services if your carpet is becoming loose.
Why Choose 651 Carpets?
As your local flooring experts in Minneapolis, we offer a wide range of carpet services, whether you need an installation or repair service. Carpets are more complex than people might think, depending on the job you need done.
For this specific reason, our expert team of carpet installers offers the Twin Cities of Minneapolis-St. Paul a FREE in-house consultation and estimate, during which, we won't waste too much of your time. We'll briefly introduce our services and explain how we'll go above and beyond to meet your needs. We'll listen to your concerns and answer any questions you may have regarding our products, budgeting, and financing.
Perks to look forward to!
Free installation upon purchase
Step installation
Complimentary furniture moving
48-month financing plan (0%)
Free old carpet removal
To help you get started and get the job done, give us a call at 651-227-7387 to chat with our friendly customer service representatives, make a convenient appointment for a free in-home estimate or ask any questions that you may have about other flooring options. We service the Twin Cities Minneapolis-St. Paul and surrounding areas, such as Eagon, Maple Grove, and Maplewood.