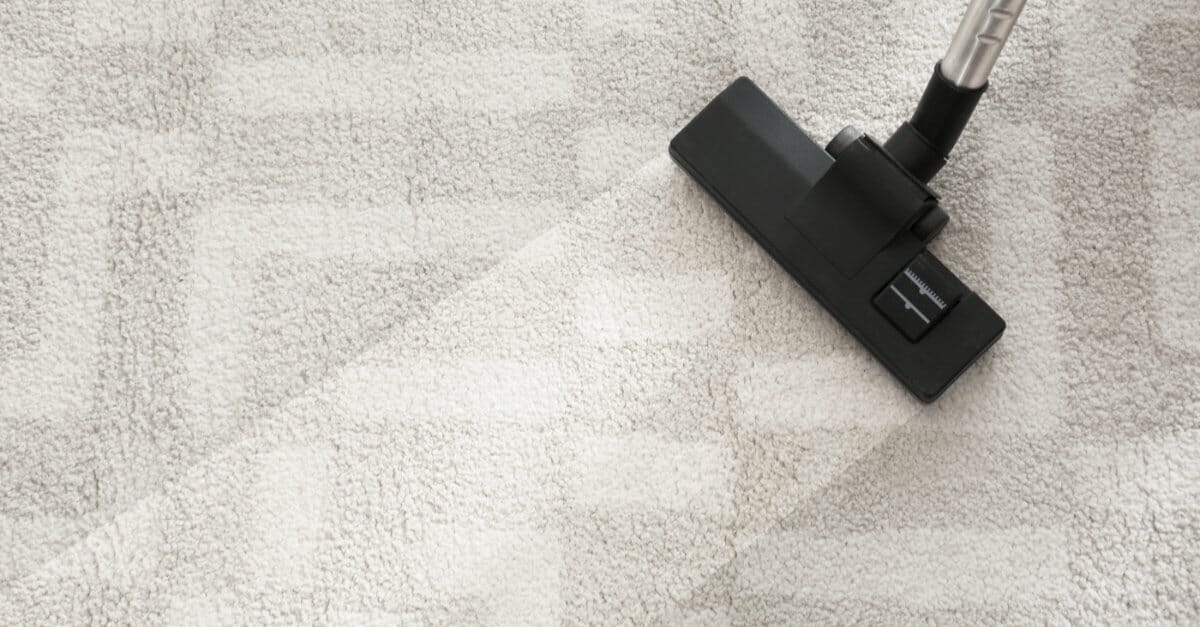 Though carpet has fallen in popularity since luxury vinyl plank has come onto the market, many homeowners still choose carpet for its warmth and affordability. Unlike vinyl and hardwood flooring, carpets can hold onto dirt, debris, and stains like there's no tomorrow. No matter how often you vacuum, after a while, your carpet may begin to look dirty and dingy. This can be a point of embarrassment for many homeowners, leading to a reluctance to invite friends and family over. Professional carpet cleaning in Minneapolis can cost more than you're willing to spend, but with the help of our top DIY carpet cleaning tips, you can get your carpets looking new again. 
As a Minneapolis flooring company, we've seen our fair share of carpet issues. With the help of vacuuming, spot cleaning stains, and steam cleaning, you'd be surprised how easy it is to save carpet that looks like it's ready for replacement. 
The Importance of Carpet Cleaning in Minneapolis
It finally happened. That glass of red wine got knocked off your coffee table and created a deep red splatter across your beige carpet. You've been thinking about getting your carpets cleaned for a while, but this was the last straw. It's time to tackle this project. 
While many homeowners avoid carpet cleaning in Minneapolis until they get a stain that they can no longer ignore, or they need to prepare their home to put on the market, there are many reasons to clean your dirty flooring more regularly. The biggest reason is to improve your overall health.
Though you can't readily see them, your carpets are actually teeming with dust particles, dust mites, bacteria, and other allergens. When you walk across the room, you actually cause these allergens to become airborne and breathe them in. Anyone in your household who suffers from allergies or other breathing problems will have a hard time getting relief in a home with a dirty carpet. If you think regular vacuuming is enough to eradicate these particles, think again. Vacuuming certainly reduces the number of allergens in your home, but only a thorough cleaning will remove them entirely and improve your indoor air quality. 
Another big benefit of carpet cleaning is that you can keep your flooring looking great for longer. We're not just talking about stains, but the entire carpet itself. When debris is allowed to sit within carpet fibers for a long time, these particles can cause the fibers to break down, resulting in a frayed, unsightly carpet. 
Carpet Cleaning Minneapolis: Common Equipment
This article is oriented towards DIY carpet cleaning in Minneapolis, but we'll touch on professional services as well. If you plan to clean your room yourself, some of the equipment you might need is as follows:
Vacuum

Clean vacuum bags, cups, or filters

Steam cleaner

Spray bottle

Carpet shampoo

Pet odor remover

Dehumidifier or fan

White cloth

Club soda

Baking soda

White vinegar
Below, we've outlined the four main stages of the cleaning process, as well as shared our top tips for each stage of carpet cleaning in Minneapolis.  
Carpet Cleaning Minneapolis: Step-By-Step Guide
Stage 1: Vacuuming
Many people in Minneapolis are quite familiar with vacuuming, but did you know that there's actually a right way and a wrong way to vacuum? By ensuring that you're vacuuming using the correct techniques, you can make the most out of this chore. 
Before starting this first stage, move all of your furniture out of the room. Working in an empty space will help the entire process go by much more quickly, as you won't have to stop to maneuver around tight corners or push your furniture back and forth from one side to the other. 
Take Your Time
We get it. You've got a million things on your to-do list, and the sooner you can finish vacuuming, the sooner you can move on to the next task. Here's the thing about vacuuming though—the slower you go, the faster you'll get this task completed. 
When you pass over an area quickly, you'll only pick up a portion of the debris. To get all the loose debris you'll have to go back and forth over that same spot several times. Though it may feel like you're being faster, by slowing down and dragging the vacuum backwards slowly, you'll only need to pass over that area once. 
Switch Directions
When you're prepping for thorough carpet cleaning in Minneapolis, you'll need to spend a little more time vacuuming than you normally would. This is because you want to remove as much debris as possible before moving to the next stage. 
After you've slowly vacuumed your entire room in rows, pass over it a second time at a 90-degree angle. For example, if you first went from your north wall to south wall, go east to west this time. 
Stage 2: Spot Cleaning
Regardless of the type of stain you need to remove, it's always a good idea to pretreat it. This will give your stain some time to lift prior to going over your entire carpet with a steam cleaning machine. There are several different types of homemade stain removers that you can use, as well as chemical products that you can pick up from your local hardware store in Minneapolis. Depending on how long the stain has been there, as well as how tough it is, you may need to try a combination of solutions to get it removed.
A word of caution: Avoid scrubbing at a stain, no matter how tempting it may be. Scrubbing can damage the fibers, leading to an area of carpet that looks worn down. Instead, blot the stain with a clean, white cloth. Using a colored cloth can actually cause the dye to transfer to your carpet, resulting in a second stain. 
Homemade Spot Cleaners
Before running out to the store, try removing stains with products you already have in the house. Some products worth trying include:
Club soda:

The bubbles in club soda work to loosen and dislodge the stain's grip on your carpet's fibers. Avoid dousing your carpet with club soda and instead apply the fizzy water directly to your cloth for blotting. 

Vinegar and baking soda:

Like club soda, the reaction between vinegar and baking soda creates bubbles. If club soda doesn't work, sprinkle baking soda on the stain and fill a spray bottle with a 1:1 ratio of water and vinegar. Spray the baking soda with your vinegar solution and let it sit for about 10 to 15 minutes. Using a clean white cloth, apply pressure to the stain to absorb excess moisture. If your cloth comes away looking not-so-white, you know it's working. Repeat as many times as necessary. 

Dish soap:

If your stain is not pigmented, but rather is mostly grease, dish soap is the key. Squirt some dish soap into a spray bottle and add water. Shake the bottle to activate the soap, then spray. Leave it for a few minutes before blotting with a clean cloth. 

Shaving cream:

As one of the most effective stain removers, shaving cream can lift a stain like no other. For this tip, you'll want to leave shaving cream on the stain until it dries. Then, spray the area with a little water and blot. 
Chemical Spot Cleaners
For certain stains, you may need something a little more powerful than the homemade remedies above. Pet accidents in particular are one that you'll probably want to use a specialized product for, as you won't just need to remove a stain, but likely an odor, too. 
There are plenty of different commercial stain cleaning products available in Minneapolis, some of which are formulated for specific types of stains. For example, Woolite offers a pet stain and odor remover with a sanitizer for those especially severe pet accidents.
If your homemade stain remover isn't quite doing the trick but you'd rather stay away from harsh chemicals, organic cleaners are also an option. Eco-88 is an organic pet stain remover, and Zorbx effectively and safely removes all types of bothersome odors. Regular use can keep your carpets odor-free. 
Stage 3: Steam Cleaning
When most people hear the phrase 'carpet cleaning' in Minneapolis, they think of steam cleaning. Also called 'hot water extraction,' steam cleaning uses a machine to spray your carpet with hot water, which dislodges all the dirt and debris that resisted your vacuum in the first stage. The hot water part is very important. Have you ever tried hand washing your dishes with cold water? The hotter the water, the more effectively it will clean. 
Steam cleaners not only spray water, but also suck the water—and the loosened debris—back up. If you failed to remove tough stains with spot cleaning, steam cleaning can help finish the job. Many different types of cleaning machines can be rented from your local hardware store, so double check your carpet manufacturer's recommendations and pick a machine that's appropriate for your carpet. 
DIY Steam Cleaning
Oftentimes, rental machines will come with a specific chemical solution for carpet cleaning in Minneapolis. If you'd rather use something natural, just add about a cup of white vinegar to the machine. Another important point to note is that some consumer-grade steam cleaners are only capable of heating cold water until it becomes warm. To get your carpet as clean as possible, heat up water manually before adding it to the machine.
If your water is hot, you won't need as much as you might think. Using the spray setting, spray enough water on your carpet to saturate it as you pass over the area once. Then, using the suction mode, pass over the area about 3 to 4 times. 
Once you've cleaned the entire room, it doesn't hurt to go over it a second time, or even a third. When the water being sucked back into the machine is fairly clear, you'll know you've gotten as much out of your carpets as you can. 
Professional Steam Cleaning
No matter which way you slice it, professional steam cleaning services will always be more effective than anything you can accomplish with DIY carpet cleaning in Minneapolis. Professionals use truck-mounted units to clean carpets. These machines are much more powerful than portable units.
However, many people don't have the budget to hire professional services as often as is recommended. You'll commonly hear that this kind of professional carpet cleaning should be done every year or so. While it's a great idea to invest in a professional service if you've never had it done before, keeping up with yearly DIY carpet cleaning in Minneapolis also has significant benefits. 
Following any kind of steam cleaning, it's of the utmost importance that you let your carpets fully dry. If they stay wet for longer than 24 hours, you could develop a mold problem. To encourage your carpets to dry, place a dehumidifier in the room, or add an oscillating fan. 
Stage 4: Maintenance
Now that you've put all of that hard work into your carpets, you'll want to do everything you can to maintain them. In additional to your regular home maintenance checklist, The key to this is regular vacuuming and ensuring that you spot clean stains the moment they occur. The longer a stain sits on your carpet, the more difficult it will be to remove it. 
In particular, pay attention to areas with high foot traffic. If you don't have time to clean your entire carpet, at least give these areas a little extra bit of TLC every now and then. Though life gets busy, neglecting your carpets on a regular basis will require you to invest in professional services more often, as well as cause your carpet to deteriorate faster and require replacement sooner. 
A few final tips to help you prolong the lifespan of your carpets are as follows:
Regularly move your furniture around

Take off your shoes when you enter your home

Place mats in high-traffic areas

Install film on your windows to protect your carpets from harsh UV rays
Carpet Cleaning in Minneapolis Not Enough? Contact 651 Carpets for Repair or Replacement! 
Despite DIY carpet cleaning in Minneapolis, is your carpet looking a little worse for wear? Are there snags, pulls, fraying, burns, wrinkles, or stubborn stains that refuse to come out? Our professional team at 651 Carpets is here to help.
We specialize in all things carpet, from carpet repair to carpet installation, and many other types of flooring, such as hardwood and luxury vinyl plank. Contact us today by phone at 651-227-7387 for a free in-home consultation to find out how we can rejuvenate your floors today!