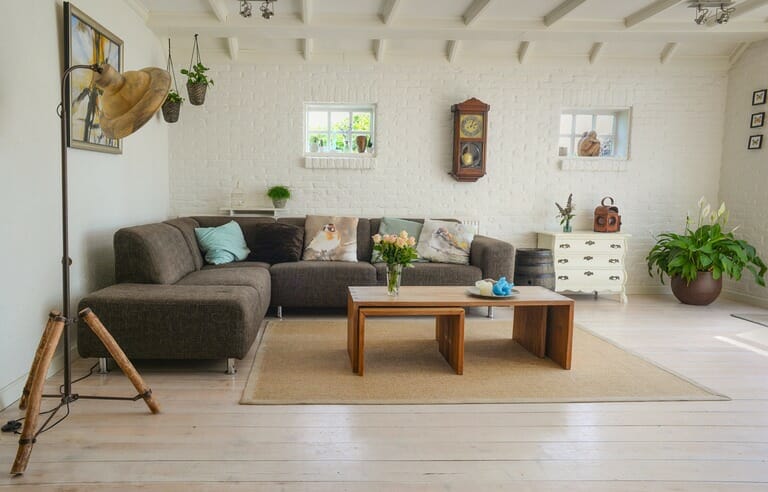 Hardwood flooring is not just about having a great look for your home. It is also an investment in the value of your home. There may be no greater a surprise for a homeowner than to lift up some old carpet to find hardwood underneath. If you are looking at installing hardwood flooring into your home, you should know that hickory is currently a very popular choice Here is what you need to know about hickory flooring.

Hickory 101
Hickory is found throughout the United States. It is the second hardest hardwood flooring option on the market, with a Janka rating of 1820. Hickory boards tend to show a lot of grains, streaks, and knots to give it a very natural and authentic look. Because of the variety in patterns and visual appeal, most choose wider boards to show off those features. Even though it is hard, it is still very prone to swelling. It is generally not recommended for DIYers because of this. It takes knowledge and experience to install it in a way to prevent warping and swelling. While hiring a professional will make the installation more expensive, the durability of the wood can make that investment pay off in the long run.
Hickory Benefits
There are many reasons why hickory is becoming such a popular choice. They generally fall under two categories: aesthetics and durability. When choosing flooring, those are often the only two factors many homeowners consider.
Looks
Obviously, the first thing anyone notices about hickory is how beautiful it can be. It comes in plenty of options, from planks to laminates, and generally comes in lighter shades. This can help brighten a space and make it look larger. If it is properly take care of, natural light can create an appealing warm glow to the floor. The natural wood grain knots that are a feature of hickory offer a nice contrast, as they are often a much darker shade than the wood.
Durability
No matter how careful you are, a hardwood floor will go through wear and tear. If you have pets and children, that wear and tear will start to show even sooner. There is simply no way to prevent spills, dirt, and fading from natural light from affecting the look of your floor. Fortunately, because it is so hard, hickory is can withstand a lot of abuse and still look great. Following a proper waxing schedule will also make it more water and stain resistant.
Disadvantages
The reason that hickory is not everyone's choice is that there are some disadvantages, depending on your situation. When it comes to aesthetics, hickory is attractive because of its lighter shades. However, lighter shades tend to show scuff marks and nicks more than darker shades. Hickory might also not be appropriate for homes with rustic decor as it may look too modern. If you do not use wider boards, then hickory can look very cluttered because of how much grain and knots can be showing.
While there are more expensive flooring options, hickory is still quite pricey. Luckily it does last a long time, so you will have to weigh the upfront cost against the durability. You can find lower quality hickory products on the market that may fit your budget, but the performance of these options may not match up to similar priced alternatives.
Hickory is not a good choice for DIYers unless you are deeply experienced and knowledgeable. It is very hard, which means that cutting it and sanding it down can be tricky. You must also make sure to stain it the right way, otherwise you may end up with swelling.
Talk to your flooring dealer to see if hickory is the right choice for your next flooring project.