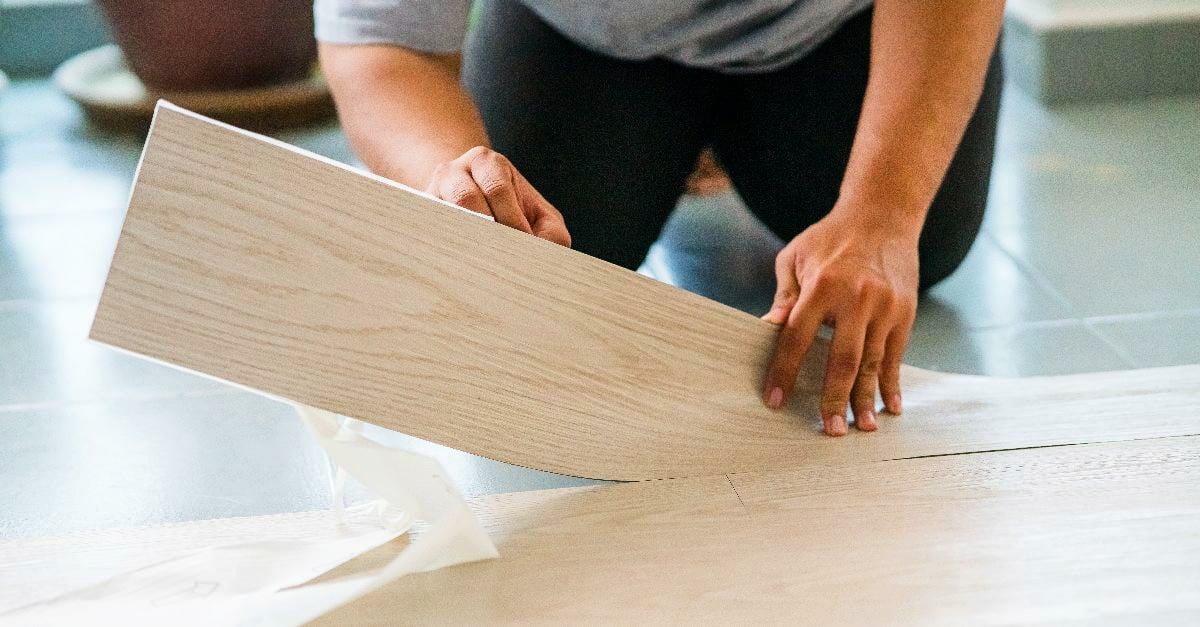 Are you looking to replace your floors but don't want to be overwhelmed by all the available choices out there? Since every flooring option has different advantages and purposes, serving in either a specific climate or all four seasons, you still need to make a choice. But how do you go about picking the best floor? Planning your next flooring project can indeed be overwhelming; however, there is one fantastic option that works flexibly in any home, and that is Minneapolis vinyl plank flooring. Benefits are measured in terms of comfort, safety, cost-effectiveness, and much more. Since there is a wide range of material types and a variety of styles, it might be easiest if we just pick one of our favorites and share with you all the details based on our knowledge and experience!
Real hardwood flooring can be incredibly expensive to install, but for most nature lovers, it is one of the most desirable options no matter where they live or how much effort for maintenance they have to invest in it. If high budget and maintenance are not for you, it's time to look into an alternative that gives you similar comfort and aesthetics at a more affordable rate. Learn more about Minneapolis vinyl plank flooring benefits from your local Minneapolis flooring experts at 651 Carpets.
What Is Vinyl Plank Flooring?
In the early 1920s, scientists in the manufacturing industry sought a new material that would be easier and more affordable to produce, yet it had to be durable, versatile, long-lasting, moisture-resistant, and much more. It wasn't until PVC revolutionized the plumbing and construction world that vinyl plank flooring started to gain popularity in the 1930s, becoming a part of other high-quality products.
Deriving from PVC and made of 100% synthetic materials, Minneapolis vinyl plank flooring benefits have transformed the ways we view the flooring industry. Production-wise, it's made of polyvinyl chloride resins. Each plank consists of six to eight layers of PVC backing, which is usually combined with other elements, such as glass fiber, stabilizers, and fungicides to enhance resilience and durability. The superior quality coating on the surface is designed to simulate other materials like wood or natural stone, emitting a kind of smoothness and sleekness that complement any home décor. Nowadays, we also refer to this as "luxury vinyl plank."
What's The Difference Between Luxury Vinyl Plank and Luxury Vinyl Tile?
As far as material is concerned, they are the same. However, tile shapes are designed to mimic real tiles but are larger in size—typically between 9 and 12 square inches. On the other hand, plank shapes come in the size of 7 by 48 inches. Another difference between the two is the surface look. Since high-end Minneapolis vinyl plank flooring is designed to simulate wood or stone its surface area and vinyl tile should mimic ceramic tile or porcelain tile, they are treated accordingly. The installation process for LVT and LVP differs based on the style you choose, but it generally involves locking together planks or sticking tiles into place.
Different Types of Finishes:
Before we get more into detail about luxury vinyl plank flooring benefits, there is more you need to know about the surface treatment.
Almost all flooring surfaces, no matter what type of material, require a protective layer or coating to make it water-resistant and scratch resistant. When you opt for a luxury vinyl plank installation, you can choose between two main finishes to protect your material. Give your Minneapolis vinyl plank flooring the protection and shine it deserves!
No Wax Finish: Generally, vinyl does not need a wax finish as it should be part of the manufacturing process. A type of clear acrylic or urethane finish should have been applied to treat the surface. Urethane is what makes LVP durable for high-traffic areas.
Enhanced Urethane: Some more advanced urethane finishes highly resist scratches, stains, and chemicals, and require less maintenance. It's far superior to the standard acrylic finish. Although additional protective coating like enhanced urethane involves an advanced investment, you will benefit from it in the future for a longer-lasting finish.
Minneapolis Vinyl Plank Flooring Benefits
Whether it's for your residential or commercial property, vinyl plank flooring benefits both home and work settings. If you've had too many problems with your existing flooring material, it's time to upgrade! Get in touch with our flooring experts at 651 Carpets to learn more about what we can do for you. Here are some of the Minneapolis vinyl plank flooring benefits that will win you over.
Vinyl Plank Flooring Is Waterproof and Scratch-Resistant
Unlike natural hardwood, vinyl plank flooring is waterproof, so there is no need to worry about potential water damage beneath your installation unless you had an improper, uncertified contractor doing the job.
Another benefit is that you can essentially install Minneapolis vinyl plank flooring in almost any room, including basements, bathrooms, and kitchens. This is a great option for busy households or office environments with heavy foot traffic.
Active kids and pets tend to run and play in the house, spilling juice, bringing in dirt from the outside, but luckily, vinyl is resilient enough to protect your floors from moisture and mud. Its scratch-resistant (if protective coating is applied properly) will perfectly protect your vinyl plank flooring from your pet's claws. This is one of the most important benefits for busy households with little ones that like to cause trouble.
Vinyl Plank Flooring is Cost-Effective
If you've had hardwood for most of your life but Minneapolis' humidity has wreaked havoc on your materials that led to endless repairs, it's time for a replacement that won't drain your wallet too much and provide you with the same kind of comfort. Minneapolis vinyl plank flooring benefits homeowners who have grown tired of spending endless money on repairs that eventually end up costing as much as a replacement. Since hardwood can easily suffer from moisture damage and develop wood rot, it often goes unnoticed until it's too late and has damaged the subfloor. Switching it out entirely for LVP could save you a lot of money in the long run without having to worry about missing out on maintenance that makes your flooring susceptible to damage.
Vinyl Plank Flooring Is Low-Maintenance
All types of flooring have a level of maintenance duties that are required to keep the floors in pristine condition; however, some require more than others. Luckily, vinyl is incredibly resilient and requires only occasional cleaning. This is extremely beneficial for high-traffic areas like kitchens and bathrooms, as they will be much easier to clean. Regularly sweeping and vacuuming is enough to keep the floors spotless. Occasionally, mops and cleaners will be needed, but our experts recommend using as little water as possible and using dry mops or micro fiber materials to clean. However, compared to other flooring options, care and maintenance are not as highly demanding.
Vinyl Plank Flooring is Durable
Vinyl flooring is scratch, stain, and indent resistant, which makes it an amazing investment for any home setting. Minneapolis vinyl plank flooring is made to be lived on. It doesn't scratch, indent or stain easily, which makes it kid and pet-friendly. Vinyl plank's durable qualities allow you to install them virtually anywhere in your home, no matter how high the foot traffic.
If installed properly and treated well, LVP can last up to 20 years. Thanks to its high-quality wear layer, the surface is protected from scratches and stains.
Vinyl Plank Flooring Enhances Your Home's Aesthetic 
As many are allured by the aesthetic of hardwood, they will be pleased to know that Minneapolis vinyl plank flooring benefits homeowners who prefer a wooden look in their homes. LVP can mimic hardwood exceptionally well. Regardless of the texture, patterns, and colors, luxury vinyl floors can look like authentic hardwood, without breaking the bank.
With vinyl plank flooring, Minneapolis MN property owners who plan to sell their homes in the future will get a decent return on their investment.
Why Choose 651 Carpets?
We know that choosing the right flooring for your home or business is a huge investment that involves lots of tiny details concerning your personal needs and comfort. We are an honest company that puts our customers first by offering FREE in-home estimates and cost guides. 651 Carpet's wide range of services is backed by a lifetime warranty for installations done by our professional floor installers. We pride ourselves on our 110% satisfaction guarantee because we care that our customers love their floors.
Budget is a factor that everyone keeps in mind, which is why we're your most cost-effective option! We also 0% offer financing options, taking into account any financial situation that you might have. You can rely on our trained consultants to answer your questions and ensure you get the most out of our services and products.
Benefits of 651 Carpets:
Unbeatable pricing
Price-matching
Free in-house consultation
Complimentary furniture moving
48-month financing plan (0%)
Lifetime installation coverage
110% satisfaction guarantee
Frequently Asked Questions About Minneapolis Vinyl Plank Flooring Benefits:
After learning about Minneapolis vinyl plank flooring benefits, its origins and its characteristics, it's almost time for the verdict. In the FAQ, we have answered questions concerning some issues that people have faced with luxury vinyl flooring, and we will be honest and transparent with you. If you don't see your question listed below, please contact us for more information!
Is LVP Sensitive to Sunlight?
Unfortunately, every type of flooring is sensitive to UV in one way or another. If your LVP hasn't received the right surface treatment like UV protection, its colors can fade in direct sunlight over time. Despite vinyl's durability, economical pricing and strong resistance to high traffic, it helps to protect it from sunlight by drawing close the blinds or checking directly with our specialists about ways to protect your LVP.
Is Vinyl Easy to Repair?
We always ensure opting for the highest quality products. Of course, there is also lower-quality vinyl that's susceptible to rips and cracks. Good quality material can break as well, especially when poorly installed. That's when it's really hard to reap all its benefits.
In the event of worn coating, scratches are inevitable. Careful sanding will remove light scratch marks and other imperfections, whereas waxing can fill deeper scratches, followed by some buffering.
If you have severe damages, planks will require a replacement. You may wonder how complicated the replacement process is, but it will depend on the initial installation. If you have floating floors, chances are your planks were simply snapped together, whereas glued planks will require more time and effort, as sharp tools are required to help dislodge the planks.
How Do I Best Protect My Vinyl Planks?
Ensuring that the surface has undergone professional sealing or finishing is crucial. Besides that, we recommend Minneapolis homeowners purchase area rugs with backing made from natural fibers like cotton. Placing heavy pieces of furniture on top of rugs will also increase protection (especially handwoven rugs without backing work).
Do Vinyl Planks Peel and Crack?
This might happen over time when adhesive around the corners begin to wear out and start to curl. If you give us a call, we'll get one of our technicians to immediately rectify this issue before it gets worse. If left untreated, dirt and debris will find their way underneath. Some corners might also be sharp and lead to injuries. Although LVP adapts well to all types of climates, it helps control the humidity level in your home, as well as keeps an eye out for UV light damages. Routine maintenance and small repairs can go a long way in keeping your LVP in shape.
Make Use Of Minneapolis Vinyl Plank Flooring Benefits!
On the fence for your new flooring installation? Don't be! It's so easy to get a FREE in-house consultation with an expert at 651 Carpet. Whether you're in Minneapolis or nearby communities, such as St. Paul, Maple Grove, or Eagan, our professional team at 651 Carpets is here to help.
We specialize in all things floor and carpet, from repair to installation services, and many other types of flooring, from hardwood to luxury vinyl plank. Give us a call today at 651-227-7387 for a FREE in-house consultation to find out how we can enhance your living space by giving you a more solid and comfortable ground to walk on.