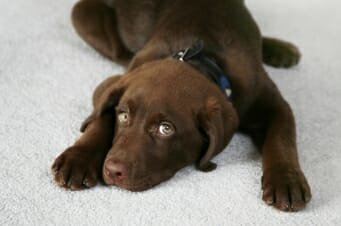 Most people enjoy having a pet at home with them. They can bring joy and companionship for many individuals. However, having a pet can cause a number of issues, one of which is the toll that a pet can have on your floors. Pet owners can be somewhat limited by what materials will work best for their flooring. If you need help figuring out what is the best kind of flooring for homes with pets, here are some tips to help you decide.
What is the Best Kind of Flooring for Homes with Pets?
Laminate Flooring.
Laminate flooring is a good option because it is very affordable, and it can be easy to replace if there is a repair or change that needs done. Many vinyl laminates can be very cost effective and can last for many years. This can be a great option for dog owners since it will stand up to scratches and accidents without being ruined the first time.
However, laminate floors can be difficult to repair, and if you are not using a standard design, the whole floor may need to be replaced. Also, laminate will limit some of your design options depending on your specific needs.
Hardwood Flooring.
Hardwood floors can greatly enhance the design of your home, but they can end up being an issue for pet owners. Wood floors will be easily scratched by animals, and they are not as moisture resistant as other options.
This means that the wood floor could end up being an expensive replacement cost if your pet ruins it. Wood floors can be refinished depending on the type of wood and the finish they originally came with, but they can end up being a liability for pet owners.
Carpet.
Carpet can be an option for some owners, but it will only work for a select group. Animal fur can end up causing smells and dirtying for carpet. Additionally, animal nails or claws could rip up a carpet and cause irreparable damage. If you want to install carpeting and you have pets in the house, make sure that their nails are trimmed, they shed as little as possible, and they are properly house trained.