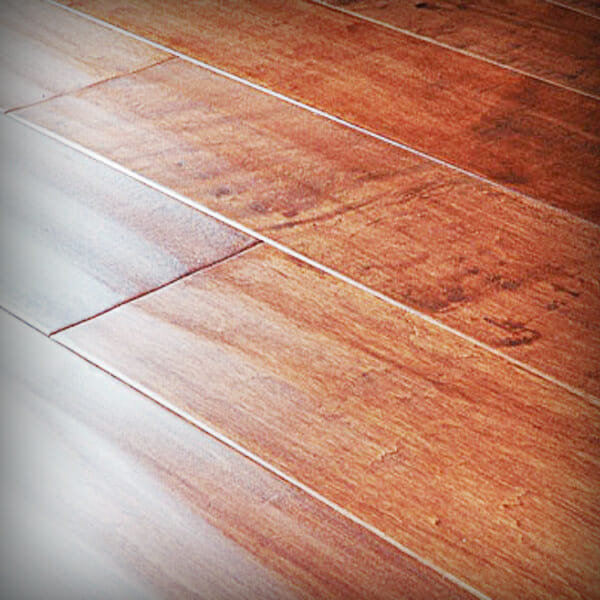 Dreaming of the luxury of having hardwood flooring in your home? Well choosing engineered hardwood flooring may be an option that you haven't thought about. But what is engineered hardwood flooring? Engineered hardwood gives you the same great look as your traditional hardwood, but is less expensive and much less likely to get water damaged.
What is engineered hardwood flooring?
Traditional vs Engineered
As normal hardwood is just a single layer of wood that is about 1/4" thick, engineered hardwood is a multi-layered piece of wood that creates the same thickness. There are generally anywhere from three to eight layers that are heat pressed and glued together to create each piece of engineered flooring. These layers create the base of the wood and then the top layer is the actual piece of hardwood that is just a thinner layer than traditional hardwood flooring. This makes engineered hardwood and traditional hardwood flooring have the same look in your home. This type of hardwood flooring is not the same as laminate "wood-looking" flooring. This is actual wood and it just has many layers instead of one solid piece of wood.
Pros of Using Engineering Hardwood.
There are many benefits to using engineered hardwood compared to traditional hardwood flooring. To start, the layers in the engineered wood flooring help prevent moisture from seeping into the wood. This keeps it from swelling or warping. This also means that you have less to worry about if/when the floor gets wet.
Another advantage is that the price is lower than traditional hardwood costs due to the fact that the layers are created by hardwood veneer wood. This makes it more affordable to install hardwood floors into your home. If you have a knack for specific wood especially, an engineered hardwood flooring option is going to decrease the cost dramatically from purchasing solid rare wood flooring.
The environment also benefits when you install engineered hardwood in your home as opposed to traditional hardwood. This is because each veneer is sliced and not cut with a saw, which means that there is no sawdust. This allows each little piece of the wood to actually be used in the flooring instead of being shaved off. Since hardwood trees take longer to grow, it's important to use all of the wood that we can from each piece. This allows forests to stabilize in their production of hardwood trees.
Using a layered hardwood is a great way to get the same look as traditional hardwood flooring, but at a much lower cost. Particularly, it is more cost effective if you want an exotic type of wood. Plus, with the benefits of it being less susceptible to water damage, you can't go wrong. With each and every piece of the tree being used, the veneers are more environmentally friendly because they waste less of the tree. An engineered hardwood floor can benefit both you and the environment.