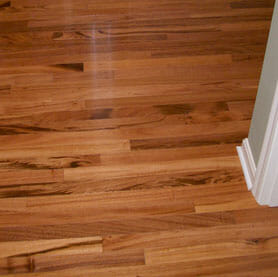 A new luxury vinyl plank product from Mohawk called SolidTech offers customers unmatched style, durability, and easy maintenance. In addition, luxury vinyl is one of the simplest types of floor to install in your home. Says Tammy Brogman, director of hard surface products, "For elevated style that can handle everyday life inside your home, Mohawk SolidTech sets the new standard for greatness in luxury vinyl flooring." Luxury vinyl is expected to be one of the hottest flooring products on the market through 2021. Find out how new SolidTech from Mohawk sets a new standard for luxury vinyl plank products.
New SolidTech From Mohawk Sets A New Standard for Luxury Vinyl Plank
SolidTech
SolidTech is a completely new kind of flooring that's revolutionizing luxury vinyl. It provides a gorgeous, aesthetic style to any home. At the same time, SolidTech provides excellent durability and is incredibly easy to clean. In addition, SolidTech is available in a unique selection of colors, and is made with worldly textures that offer homeowners the opportunity to create innovative floor plans and unforgettable interior designs. Even more impressive, SolidTech planks are wider than standard vinyl, and offer low-frequency pattern repetition, giving it a natural, hardwood appearance.
SolidTech Selections
There are three distinctive collections available for SolidTech.
• The Galvyn Collection – this collection features 12 amazing designs, including Nightfall, Pearl Platinum, Castle Rock, and more.
• The Revella Collection – the Revella collection is perfect for consumers looking to add a touch of class and elegance to their floor plan. Color plans in this group include Brownstone, Sandstone, Burnt Ember, and more natural colors.
• The Vershire Collection – this collection highlights SolidTech's wide-plank design and offers enhanced luxury and charm, along with an impressive array of colors to create just the design you're looking for.
Easy Installation
SolidTech offers excellent style that, along with its unique strength and durability, transforms your dull interior design into a provocative living space. In addition to its impressive design, SolidTech is incredibly simple to install. Angles are used to simply connect the pieces together for impeccable results. The product is made with Uniclic MultiFit technology, which creates an impervious lock between the individual planks. As a result, SolidTech floors are also water-proof and odor-free.
Additionally, because they are also 50% thicker than average vinyl planks, SolidTech does not reveal imperfections in the underlying floor. The material also resists scratches, scuffs, and indentations, so it is perfect for pets, and maintains its dimensional stability under heat or temperature change. For more information on SolidTech, contact the professionals at 651 Carpets. Their representatives are friendly and knowledgable about trends in the flooring business and can show you how new SolidTech from Mohawk sets a new standard for luxury vinyl plank. Call today!