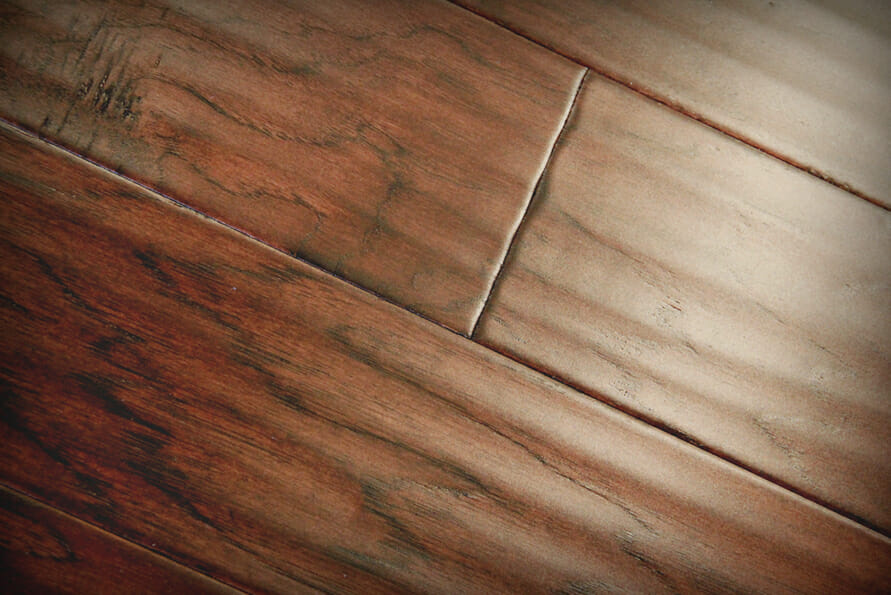 Engineered hardwood flooring is an affordable alternative to traditional solid hardwood flooring. Engineered hardwood floors are made by taking a core product (like plywood, cork, or recycled wood fiber) and then placing a layer of hardwood veneer on top. Hardwood veneer is a very thin section of hardwood (usually no thicker than 1/8 inch). With engineered hardwood you get the high quality appearance of hardwood with a lesser price and easier installation process.

The installation process for engineered hardwood flooring is so easy and convenient that it can be done by beginners and novices. Solid hardwood takes professional craftsmanship experience in order to properly install. Engineered hardwood tiles can be purchased and then self-installed or professionally installed at a much more affordable rate than solid hardwood. The time it takes to install engineered hardwood flooring is significantly less than solid hardwood as well, because it doesn't take as much expert talent and knowledge to do so.
Solid hardwood floors are much more expensive than engineered hardwood, because they consist of a much thicker cut of hardwood to make the flooring and do not have a core beneath them. With that being said, the appearance of engineered hardwood and solid hardwood are exactly the same. With that being said, engineered hardwood does warp in shape easier, because it is not a solid piece of wood. It is also more easily dented- so grooves are more likely to occur.
Engineered hardwood flooring is a very stable flooring to have in your home.
It resists changes in moisture much easier than traditional hardwoods and can 'shift' as your house shifts, so it's less likely to have issues due natural weathering of your home. They are also much more environmentally friendly and there are recycled-core options that are widely available. Not only are recycled core options (that utilize wood byproducts and scraps) much more affordable, they're also a great eco-friendly interior decor product that is a good alternative to the other popular eco-friendly flooring; bamboo.
Engineered hardwood flooring is an ideal choice for your home if you're looking for a hardwood option that is affordable and nature-friendly. It is a little less durable than traditional hardwood, but looks almost exactly the same at just a fraction of the cost.
If you are interested in learning more about the installation of engineered hardwood flooring in your home, contact a friendly representative at 651 Carpets today! We offer flooring services throughout the Minneapolis & St. Paul, MN region.